The signature aesthetic industrial design and unique easy-to-assemble structure defined the award-winning YoDrum. It features our own proprietary chip accompanied by industry-leading sound library. The extremely low-latency multi-channel wireless connection makes real-time communications smooth.
In terms of product design, craftsmanship, technology, and user experience, YoDrum sets one of the most important milestones in modern musical instrument industry.
Integrated compact sound module
Wireless mobile device connection
Internal cables save you from mess
Simply use your phone to record samples
Powerful user-friendly gadget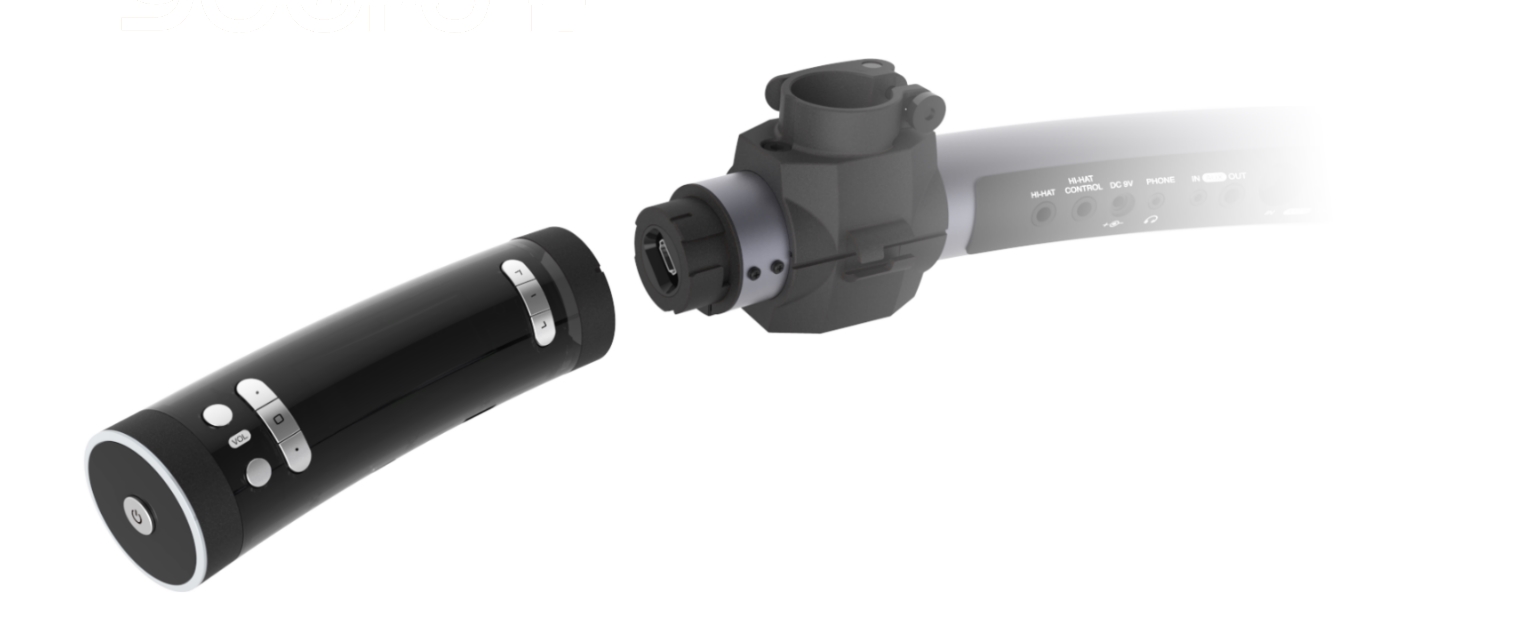 U-Bend Drum Stand
YoDrum's unique U-shaped drum stand is one of its instantly recognizable features. Besides giving it a streamlined and neat look, this innovative design provides YoDrum greater stability and durability than traditional digital drum kits, even with 30% less space. The U also makes the kit easier to set up, as everything just snaps together whereas no tools are needed!
Control Module & Instrument in One
YoDrum's smart control module employs a 45° 3D arc design that locks right into the drum stand. All of the complex cables and wirings are hidden inside the drum stand, and you're left with a smooth looking, aesthetically integrated kit. The intelligent module and stand were designed to flow together, and you can tell it is a single art piece on your first glance.
Precise Craftsmanship
The light but rugged YoDrum stand is made of CNC processed anodic alumina. The U-Bend is manufactured through a rigorous 12-stage process. Seven of these processes are used to achieve the precise bend of the pipe while ensuring a perfect curve within its own internal cross section.
The silent pads are made of new theodolite composite material for natural and noiseless performance. If you're drumming in a living room, you won't even wake your baby!
Sample your favorite sounds anywhere!

Sample

the drum kits you love and make it yours

Create

playable beatbox with your own voice

Mix

&

Match

sounds to build unique kits
Implemented with WIFI 802.11n & Bluetooth 4.0 Modules

Establish connection with smart mobile devices

Use multi-channel wireless technology

Achieve performance level,

low latency and real-time wireless communication.
11 Proprietary Core Microchips

Single 32-bit ARM9 processor

8 high performance effect DSPs and 2 precision synthesis DSPs

Define standards for computational performance and audio algorithm technology in music industry



Cloud kits management

Online store brings new tones and other creative features to users
Perfect companion for professional drummers

Fine kit customizations allow to even set tightness of snare strainer

Samples recording from phone to YoDrum opens up your creative mindset
Kick

12",mesh

Snare

10",mesh,head &

Tom 1-3

8",mesh,head &

rim multi-sensor(x3)

Tom4

10",mesh,head &

rim multi-sensor

Hi-Hat

10",choke &

bow multi-sensor

Crash

12",choke,edge &

Ride

12",choke,bell,edge &

Expansion

Splash cymbal,China cymbal
Polyphony

256

Preset Kits

6 preset drum kits

User Sample Memory

(share with other user contents)

Preset Instruments

DSP

Reverb, Chorus, Compressor, EQ

Tempo

30 ~ 280 BPM

Display

Dot-matrix OLED display

WIFI

Bluetooth
Connectors

USB to host (USB type C, USB MIDI & Audio Interface),

USB to device (USB type A, MSD)

Dimensions

Gross Weight

31 KG
Medeli Electronics Co., Ltd. ( Headquarter )

20th Floor, Cheung Lee Industrial Building,
9 Cheung Lee Street, Chai Wan, Hong Kong.

Tel: +852 2898 8831
Fax: +852 2558 2639
YoDrum is one of Medeli Electronics' newest innovative musical instrument product. Medeli Electronics believes the full enjoyment of music greatly relies on high-quality musical instruments. The company is dedicated to producing top quality digital products for players of all kinds of music.
Founded in 1983, Medeli Electronics is a digital musical instrument developer and manufacturer based in Hong Kong. Medeli proved its early success in the 1980s by selling over 1 million units of its electric keyboard as a start, followed by the development of digital pianos, digital drums and other digital audio devices, adding greater dynamics to the product range. Currently it has grown into a company of over 1000 employees and with operations across Hong Kong, Shenzhen, Shanghai and Zhuhai.

With our continuous commitment to the innovation in design and the development of quality sound, we have established a name among those who share the same values of music appreciation. The company has gained worldwide recognition over the past 30 years, enjoying distribution in over 90 countries, while our distinctive partnerships with many international brands further promotes our expertise within the industry.
© 2018 Medeli - All rights reserved.